The other day, I was tasked with making a comfort food brunch for Amazon LIVE, and I decided to whip out the waffle maker. I can't remember the last time I made waffles at home, but I like to order them when I dine out, so it seemed like the perfect DIY comfort food brunch decision. With my beautiful little waffle maker, I made 2 waffle recipes: air-fried chicken and waffles with a hot honey butter and cannoli waffles, which I will link as soon as I write them. However, the waffle batter itself was so good that I decided the waffles themselves needed their own recipe because they were buttery and fluffy like clouds. You can make these without anything else, and still be satisfied.
Before I get to the recipe, I want to link the extremely cheap waffle maker that I used for this recipe. I think waffles are such a speciality food that it's not really worth spending a lot of money on a waffle iron, but alas, if you want to buy a restaurant quality waffle iron, please live your truth. I have the exact waffle iron below, color and all, but sometimes Amazon runs deals on certain colors, so make sure to look up the other colors to see if you can get a discount!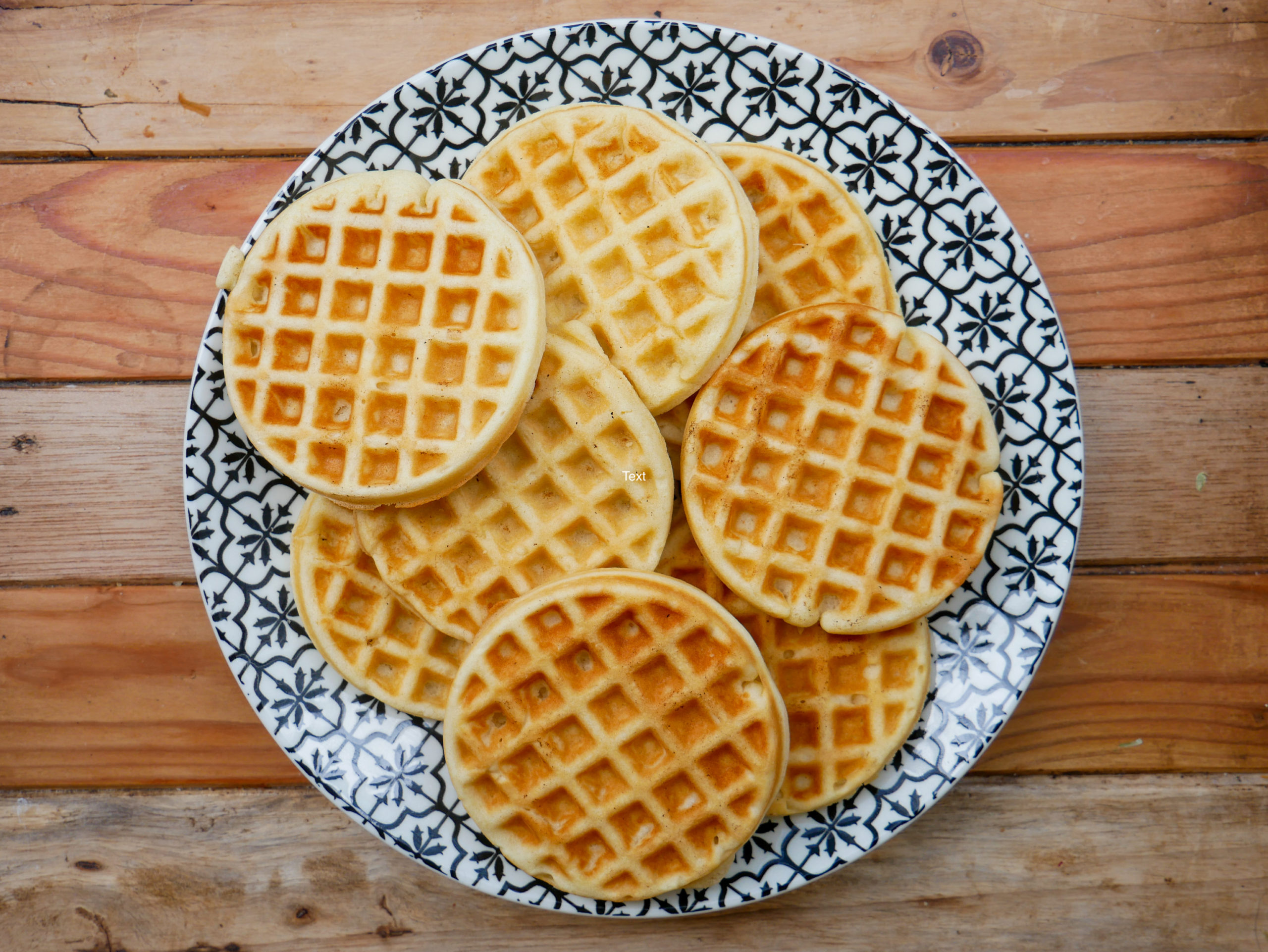 Fluffy AF Waffles
Sure waffle mix is great but you may as well make your own that tastes 10x better. These waffles are for the crisp, buttery and fluffy waffle lovers out there.
Ingredients
1 3/4

cups

all purpose flour

bleached or unbleached

1/4

cup

granulated white sugar

3 1/2

tsp

baking powder

1/2

tsp

salt

or a generous pinch

3/4

cup

vegetable oil

2

eggs

3/4

cup

half and half

can also use 1 1/4 cup whole milk and skip the 1/2 cup water

1/2

cup

water

Butter

for waffle iron
Instructions
In a bowl, whisk together the flour, baking powder, granulated white sugar and salt until thoroughly combined.

In the same bowl, add the egg, vegetable oil, half and half and water. If you are not using half and half and water, use 1 1/4 cup of milk to substitute. Feel free to also add vanilla extract but it's not necessary.

Fold in the wet ingredients until the batter is fully incorporated. Whisk out any lumps until the batter is smooth. Note: the baking powder will activate after a few minutes, making the batter thicker and airy-er. Stir the batter periodically to keep it at the right consistency. You can also add water to thin it out if it's too fluffy for your liking.

Butter a waffle iron and pour the batter in, until 3/4 of the iron is full. Close the waffle iron and wait until the waffle is fully cooked and golden brown on the outside. Repeat with all of the waffles.
@diningwithskyler on Instagram