My Favorite Date Spots in NYC for Every Relationship Stage
Ah, the good old "where should we go on this date" question! Having been in NYC for 8+ years, I've done my fair share of dating here. I've also done my fair share of eating, and honestly, more than my fair share of drinking (especially on dates.) I've been through the "reunite after weeks apart in a long distance relationship" dates, awkward tinder first dates that end in a "how did I get this drunk," and the best first date of my life (and many more) with my now husband.
Now, before I get to my date spot rec list, I want to preface the kind of dater I am. I'm an adventurous dater. For first dates, I used to prefer lively vibes instead of awkwardly intimate spots. I love going to fun restaurants or bars with unique cuisines, and authentic experiences. I also love going on full blown adventures that have nothing to do with food. For example, my husband and I went to a medieval festival for our 3rd date. For our 4th, we went to the bronx Botanical Gardens and ate dinner in the Bronx Little Italy.
Alas, this article is about restaurants and bars, so I will keep it strictly about that! I still am an adventurous dater, and my husband and I still to go on adventures together. But, I will say, I do think there are different dates for different stages of relationships. I also think there are different dates for different tastes. For example, first dates for me (except when I met my husband!) used to require a ton of alcohol and the "just right" vibe of having something to offer for anyone. Moving on from that, relationship dates didn't require as much alcohol, but more great food and romantic-ish vibes. So, I'm just going to give you the whole rundown on different spots and why I think they are great. I have divided this article into two different sections: drinks-forward, and food-forward. Usually, any food-forward spot has a great drink selection. So, keep that in mind when you're reading!
I also want to preface that these are my opinions, and I am a relatively happy diner and drinker. Unless you serve me gluten-free bread and alcohol-less wine, I will most likely have a great time. If you are really picky and if you feel any urge to blame me for a date gone wrong, please double check my recommendations to make sure it's the right fit for you! I do not want to end relationships and receive death threat DMs for this sh*t. I'm here to offer my opinions and advice.
Please also note, I have been to the majority of these places on actual dates, and I typically don't take pictures on my dates bc it's rude AF. So, if I'm using a stock image, that's why.
For Drink-Forward Dates :
These bar restaurants are known for their drinks, but most of them offer dining menus as well.
79-81 Macdougal St, New York, NY 10012
Dante is that nice balance of refined and casual, with a hip and busy geographic location. There's something for everyone: you have fun cocktails, or classic cocktails…you have light bites or main courses…you can sit at the bar for uber casual vibes (that's what I did) or you can get a table. I went here for light bites and negronis with a fellow foodie. While the date didn't work out, I was impressed with the date spot. It was a good choice.
700 E 9th St, New York, NY 10009
I filmed an episode of Sipping with Skyler at the Wayland, and I immediately thought it would be the perfect spot for a first date. Why? The atmosphere is cozy and cool, the cocktails are creative, and they have a menu with classic shareable American comfort food dishes. This place is like an elevated pub, and it's open until 4AM for those very successful dates that go too long.
22 W 8th St, New York, NY 10011
I've been on a date here, and also have come here with girl friends. The reason I like Amelie as a first date spot is because it has solid romantic-ish/hip vibes, it's very busy, and it 's reliable for wine lovers who may want to eat, if the date is going well. The menu boasts French-style cuisine with light bites or heavier entrées. There are two locations, but I've been to the West Village location, which I highly recommend!
Multiple locations
Ok, there's nothing really outstanding about Pierre Loti, but it is very reliable. This is the place for an efficient drinks-based first date, with a side of light bites. The vibes are casual and romantic, but Pierre Loti is usually very busy, which obviously makes a first date less awkward. I have only been to the Gramercy location, which I recommend and have linked above. If you are not a wine drinker or a cheese eater, please skip this recommendation and move onto the next one.
55 Irving Pl, New York, NY 10003
This speakeasy is for the swanky cocktail lovers out there in the world. If you're trying to impress your date with your elevated taste and a special upscale speakeasy experience, Dear Irving is the spot. On the flip side, if you want bustling loud bar/restaurant vibes, this is not your place. Go to the Gramercy location for drinks and if the date is going well, head out to Pete's Tavern across the street and get a late night bite! They do have food here, but it's pricy and just small bites. I recommend Dear Irving for drinks and atmosphere. Please note, there is also another location, but I've only been to the Gramercy spot.
Angel's Share
8 Stuyvesant St, New York, NY 10003
This is an adventurous first date spot — it's a hidden, intimate speakeasy located above a restaurant in the East Village. On the menu, there are lots of exotic cocktails. I went here with Sebastian early on in our relationship, and I honestly forget if there is food. If you're coming here, make sure you're in the mood primarily for drinks, and you can grab a bite after.
765 Washington St, New York, NY 10014
To be fully transparent, I went here on a friend date after a breakup. But, that doesn't change my opinion that I think it would have been a great romantic date spot! This bar is secluded on the far west side of the west village, and it's definitely a spot for locals. It's an intimate place with an outdoor garden for those warmer months.
1590 2nd Ave, New York, NY 10028
The Penrose is one of my favorites. I've been here for a few dates, the best one obviously being with my husband, who wanted to share a fried chicken sandwich and mac n' cheese with me. The other dates I've been on here were strictly in the drinks zone. But that's why this place is great — they've got something for everyone, and the vibes are great. After 10PM, it does get a little rowdy and loud, but I think that's fun. Great cocktails, great comfort food, and fun vibes. FYI: The Penrose is in the Upper East Side, for anyone who lives on the higher side of the island.
Multiple Locations
I once broke-up with someone here, but that doesn't mean its not a great date spot! I also had the most awkward hinge date of my life here, but it would have been 1000000x more awkward if I were somewhere else. Now that I've prefaced that…. here's some more info about Lillie's. Lillie's is a busy bar-restaurant, that's very popular for after work drinks and dinner, plus it gets even more packed on weekends. If you want a lively bar to enjoy a drink with a first date and assess the potential of the relationship, this is definitely the place. There's enough action going on around you to make any awkward moments completely not awkward. On the flip side, if your date is going well, it's a super fun place to knock back some beers and eat some comfort pub food. There are two locations, and I've been to the Union Square location.
9 Doyers St, New York, NY 10013
This place is an experience. You get drinks and a show. There's a lot happening here, so let me break it down. Apotheke considers itself to be a "cocktail apothecary" with a unique cocktail menu designed for different needs. I think you need to see the menu for yourself to fully understand what I'm saying. In addition to the unique cocktails, you also get access to an entire absinthe menu, if you're into that. And it's not over there. After 9PM, there's a "strict dress code" *eye roll but also can be fun if you're into that* as they put on different evening shows every day of the week. Sebastian and I went to a burlesque show here one time and it was a lot of fun! You cannot get a reservation here, so make sure to have a backup plan in Chinatown incase it doesn't work out!
Bua Bar
122 St Marks Pl, New York, NY 10009
For those happy hour and IPA lovers, Bua Bar is the place for your date. This small bar in the East Village has character and cozy vibes, but it also just radiates coolness. It's usually crowded, but not overly so. You also can order comfort foods… like a pickle tasting or a grilled cheese.
For Food-Forward Dates:
From my dating history, I found that the food-forward date spots were more for the third-fifth date. Eating with someone can be more intimate and more of a time commitment, so I think it's natural to go from drinks-forward to food-forward after a few dates. No matter what stage of the relationship you're in, these places make for great date spots. Please note: they are in no particular order.
76 Avenue B, New York, NY 10009
Go here for a Georgian food adventure. You must get the khachapuri to share, and then take it from there. The restaurant is authentically Georgian (we had it verified by one of our Georgian friends) with delicious comforting dishes and a Georgian wine selection. The vibes are fun and it is almost always crowded on the weekend. In addition to the khachapuri, we ordered the cornish hen and some dumplings. Sebastian and I went to the East Village location this past weekend and had the best time!
68 Clinton St, New York, NY 10002
Can you tell I like to be adventurous with my dining date spots?! I love the idea of trying new things together. This filipino spot is hip, lively and the food is authentic, creative and delicious. Whether you go for brunch or dinner, Pig & Khao is an experience in a hot Lower East Side location, which makes it great for the possibility of going out for drinks or dancing after.
Multiple locations
If Filipino and Georgian food aren't really your jam, here's a safe bet for the farm-to-table American food lovers out there. There are a few Westville locations around the city, but each of them is pretty small with a casual, cozy vibe. I used to suggest Westville as a reliable place to dine out with someone I'm still getting to know. It's also a great brunch spot for the morning after, if you just can't get enough of each other.
28 Cornelia St, New York, NY 10014
I once went on a third date here and it felt like the perfect place. Palma is romantic, hip, cozy and cute, with good Italian food. Granted, I haven't been here since 2014, but the reviews I'm reading on the Internet seem to agree with my stance. Also primely located for going out afterwards.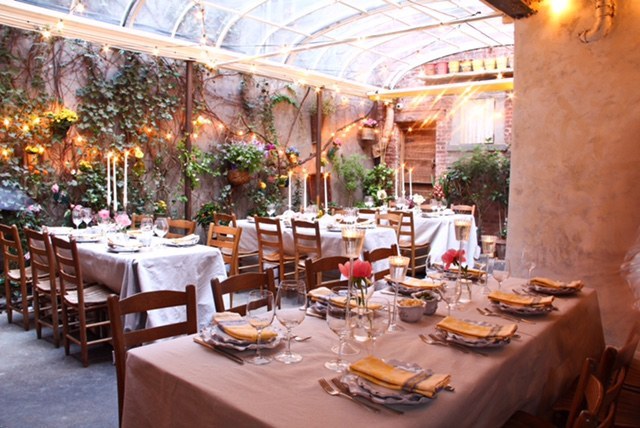 101 St Marks Pl # 1, New York, NY 10009
Cafe Mogador is a casual and cozy Moroccan restaurant in the East Village (they also have a Brookyln location) that is good for a dinner, lunch or brunch date. It's the perfect balance between exotic and playing it safe, because the menu really does have something for everyone. You can get a lamb tagine, or you can get a chicken kebab. You can even get pancakes. The choice is yours.
Multiple locations
Okay, The Smith is like the basic betch of date spots, but I like it because it's really just a reliable restaurant where you always will have a great time. No matter if you are on your first date, third date, or 23940803284th date, it has lively vibes, a fun American-comfort food menu, and a reliable drink selection. I love this place for a good late lunch because you miss the crowds. There are also multiple locations. It's obvious, but I had to throw it in here. Great for anyone visiting the city and trying to find a place to go on a date.
424 E 9th St, New York, NY 10009
This East Village restaurant is full of fun — fun dishes, drinks and vibes. The menu boasts "Korean cooking with French and Spanish influences" and the cocktails are edgy and cool. Think: alcoholic glow in the dark Capri Suns. If you like a good dining and drinking adventure, Thursday Kitchen is the place.
90 Bedford St, New York, NY 10014
Cute, romantic atmosphere, delicious food, and prime location? Sign me up. While I haven't been here in a few years, I remember their meatball sliders to be the best I've ever had, and their burger is light's out. The bar is cute and the restaurant is also adorable with 28 seats and an intimate setting. On a broader note, The Little Owl is known for having American-Mediterranean cuisine and it's in the heart of the West Village. Talk about charming.
200 E 3rd St, New York, NY 10009
An oldie but a goodie! This intimate Lower East Side spot opened back in 2014(ish) and was super famous on Instagram for its chicken and waffle sliders. The menu here is Southern soul food-inspired, and they also serve barrel-aged cocktails and craft beers for a well-rounded, fun dining experience that you an't really get anywhere else!
114 Kenmare St, New York, NY 10012
If you're looking for a cool, underground scene and some reliable Mexican food and cocktails, La Esquina Brasserie is just the place. Upstairs, there's a casual grab-and-go taco joint. This is not the place. To get to the hidden downstairs restaurant, you go through the kitchen and find yourself in another world downstairs. Let me just say this: the food is overpriced for what it is, but I went here with Sebastian and we had a good time because it was just a fun experience! Use your judgement on what you like.
181 W 10th St, New York, NY 10014
Romantic French dinner date in a West Village Townhouse? Check. Casual bar for wine and small plates? Check. Bobo offers both, but I do recommend coming here for dinner. Seb and I came here a few years ago and dined in the intimate upstairs dining room. It was fun and romantic at the same time.
144 2nd Ave, New York, NY 10003
You can't live in NYC and not go to Veselka. This Ukranian diner is a classic, and the old school, no-frills vibe is oddly romantic in a fun way. What's more fun than going to a diner and getting pierogis and borscht?! Also, this is a great late night date spot if you want to have a sit down meal instead of a dollar slice. If traditional Ukranian food isn't your scene, they do have pancakes… and mac n' cheese. But I highly recommend going authentic Ukranian if you come to Veselka. You can get pancakes and mac n' cheese anywhere. Yes, I am embarrassing and one time got pancakes.
2357 Arthur Ave, The Bronx, NY 10458
Once upon a time, on our third date, Sebastian and I went to the Bronx Little Italy and enjoyed a delicious Italian meal and wine tasting. I mean, we brown bagged a wine bottle in an uber and went to a party. It was an epic night, and such a fun experience. If you haven't been to Bronx Little Italy yet, I highly recommend checking it out. And if you're looking for a full-day date, go to the Bontanical Garden beforehand! There's nothing like a flowers and red sauce Italian food to bring the romance and fun! I'm suggesting this place because we went there and it was delicious, but I feel confident that any restaurant on Arthur Avenue will do the trick.
Chinatown food crawl
I know this isn't a set restaurant, but just go to Chinatown and eat things. Walk into any restaurant and get one dish. Pay cash and move onto the next. Here's my suggested order: soup dumplings at one place, hot pot at another place, then pork buns at Mei Li Wah Bakery. If you're still hungry, go get a fun ice cream! Chinatown is cheap, so this will not break the bank and it's a fun adventure!
13 Doyers St, New York, NY 10013
Okay okay, if you desperately don't want to just mosey around Chinatown then here's a trendy dim sum place for you. Dim sum is a fun and interactive meal, and as someone who studied Cantonese cuisine in Hong Kong, I will say this isn't the most authentic (a little bit westernized), but it's a solid choice with trendier vibes. Nom Wah has been open since 1920, so it is old school, but it's not like what you get in Hong Kong. If you're looking for the Hong Kong in NYC experience, go to my next suggestion instead.
20 Elizabeth St, New York, NY 10013
I'm recommending the Chinatown Jing Fong location, as I have not been to the UWS one. This is a true AF Hong Kong dim sum experience. In Hong Kong, dim sum brunch (AKA yum-cha) is a traditional Chinese meal where families get together to enjoy a multitude of dishes and tea. It's fast-paced, but intimate, with servers rolling carts with different dishes around the room, and diners stopping them to put in their order. It's interactive and fun, and a true cultural experience. If you're on a date, you will probably be seated at a communal table, which I find to be really fun and an additional element to the experience! If you like private dining, this is not the date for you.
Multiple locations
As the name suggests, this is a dessert restaurant. I think there's something fun about grabbing a taco on the street for dinner, and then heading to a full blown dessert restaurant for a date. Spot Dessert bar isn't just giving scoops of ice cream and slices of cake, they have unique sweet creations that make dining fun and an experience. It's also open late night, so you can also do a full dinner, then dessert after if you're feeling very adventurous and money is no object.
277 E 10th St, New York, NY 10009
You ever just want to go on a casual date at an understated cozy restaurant and eat the best burger of your life? That's where Brindle Room comes in. You can come here for a full meal, or you can come here to just have a drink and split a burger. The vibes are so chill that it will feel like you're in your living room enjoying each other's company and great food. The Infatuation shit all over this restaurant, but I love it and I stand by it and it's burger.
212 Lafayette St, New York, NY 10012
My trendy dairy-eating people (usually the two don't go together, but I'm hoping for the best here,) Café Select is the date spot for you. This is a casual Swiss spot with a good old shareable fondue pot and a good drink selection. It's a great spot to go after work, for dinner, or even for lunch — it's almost always bustling. There's also a hidden late-night spot in the back for you edgy night owls.
Freeman Alley, New York, NY 10002
Freemans is the definition of understated and cool. At the end of a hidden alleyway in the Lower East Side, you'll find this quaint, low-key Colonial tavern. Inside, it's cozy and (usually) crowded with tables and a bar. You can come here for brunch, lunch or dinner, but since it's naturally dark inside, I recommend going at night. The menu is American-influenced and the artichoke dip is supposed to be stellar.
116 E 16th St, New York, NY 10003
Come here less for the food, and more for the comedy show. This is a fun, adventurous date spot for anyone into comedy shows. You get a table front and center, drinks and American comfort food options on the menu.
141 W 10th St # A, New York, NY 10014
Here's a romantic hidden West Village gem for you! This is a local spot, with relaxed vibes. It's cozy and candle lit in this basement restaurant on W 10th st., and they offer a seasonal menu with locally grown ingredients.
1170 Broadway, New York, NY 10001
This is probably the priciest and most high-end on this list. I try to keep date night casual, because I think fine dining is meant for special occasions. But, I do think The Nomad's sexy chicken dish brings romance to any date. So, I had to include this place. The vibes of the restaurant (and the cocktail bar in the hotel) are classy and enchanting, and the food at the restaurant is lights out. You must get the chicken. If you don't get the chicken, you are doing it wrong.