Slow Cooker Pulled Pork Sandwiches with Sriracha Pimento Cheese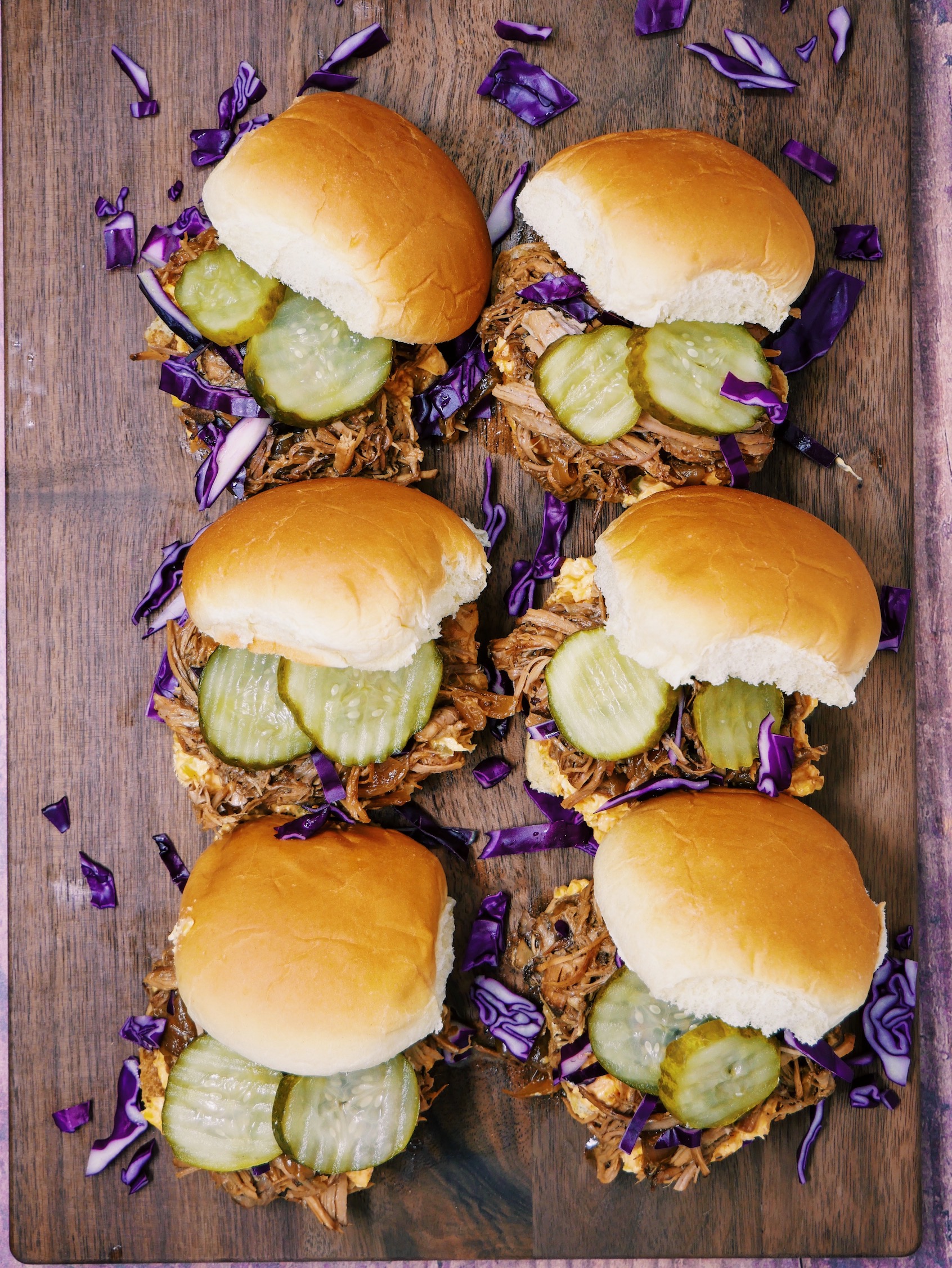 When it comes to pulled pork, there are a few ways to make the meat, and about 1001 ways to flavor the dish. I decided to go the easy and creative route to make this extremely flavorful, Japanese American inspired version. Yes, I could just do a basic BBQ sauce….but I find that uninspired for my own taste buds and desire to be creative in the kitch. So, I decided to bring some umami to the table with some white miso, ginger and mirin. All of these flavors together add a depth of flavor to a traditional recipe.
I decided to go with the slow cooker method to cook this pulled pork, because I find it extremely convenient to let the pork cook over night. All you need to do is get a beautiful night's sleep and then make your cheese and assemble the sliders in the morning. You won't be able to resist eating one (or 7) for breakfast. 🙂
I love a dish that hits a lot of flavor notes, and these sandwiches are sweet, salty, spicy (mildly spicy, but you can up it if you want) and acidic. I used Hawaiian Sweet rolls as my base for the sandwich. I then made a sriracha pimento-less pimento cheese ….what I mean by this is that I forgot to buy pimento peppers, and I ended up just throwing pickles in my cheese mix instead. Can I just say, pickle cheese is f*cking awesome!?!? In this cheese, I mix cheddar, cream cheese, a hint of spicy sriracha mayo, garlic powder and finely chopped dill pickles. Do not knock it until you try it. I spread this mixture on the bottom bun. I then topped it with a scoop of warm, beautiful pulled pork. To finish off this sandwich, I added some thinly sliced crispy red cabbage (also for color as well) and 2 pickle slices. Put the top bun on…. and we're golden. So. Damn. Delicious.
Enjoy for game day. Enjoy for every day. Here's how to make it!
Adjust Servings
Slow Cooker Pulled Pork + Cooking Liquid Sauce

1

4 1/2 or 5 lb

bone-in pork shoulder

3

sweet onions

4

cloves of garlic

1/4

cup

sliced ginger

32

oz.

low sodium chicken broth

3

tbsp

Worcestershire sauce

1

tbsp

molasses

1

tbsp

white miso

1/4

cup

unsalted butter

1

tsp

corn starch

Dry Rub for Pulled Pork

1

tbsp

garlic powder

1

tbsp

smoked paprika

1

tbsp

kosher salt

1

tsp

allspice

1

tsp

cumin

1

tsp

black pepper

Liquid Glaze for Pulled Pork

1

tbsp

white miso

1

tbsp

Worcestershire

1

tsp

molasses

1/4

cup

mirin

Sriracha Pimento

4

cups

cheddar cheese
Equipment
2.
NOTE: You can make this a few days ahead and store it in the fridge, but I prefer the night before you want to eat it.
3.
Trim the skin and any large fat chunks off of the pork shoulder. Pat dry and set aside.
4.
Put the onions, garlic and ginger on the bottom of the slow cooker. Evenly spread them out to create a bed for your pork.
5.
In a bowl, mix together the chicken broth, 3 tbsp Worcestershire sauce, 1 tbsp molasses and 1 tbsp white miso. Whisk until thoroughly combined.
6.
Pour this mixture on top of the onion mixture in the slow cooker.
7.
In a separate bowl, mix together the dry rub ingredients until thoroughly combined.
8.
Pat this dry rub all over the pork, on every side. Rub it into the meat. Use all of the dry rub.