Mafaldine with Goat Cheese, Sweet Corn, and Sautéed Ramps
It's ramp season, baby!!!! I'm not talking about a highway ramp or a wheelchair ramp or anything that has to do with sloped roads or sidewalks…I'm talking about the glorious ramp used in cooking. It's part of the allium family (think onion, scallion, leeks, garlic, etc.) and it's one of the most treasured ingredients in the culinary world. They're so hard to find, but luckily a kind neighbor gifted me ramps the other day and I was able to make this delicious pasta dish.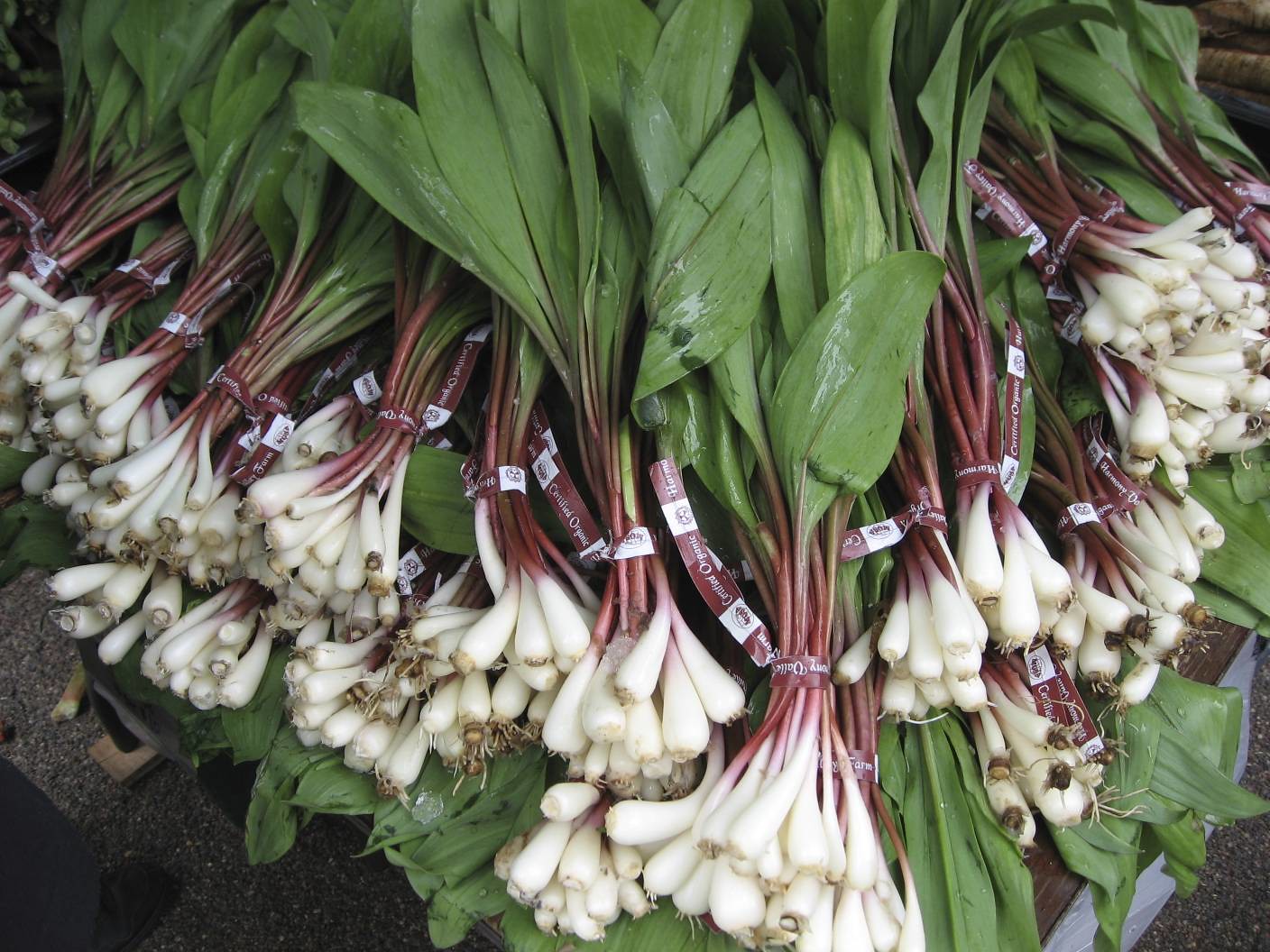 When I say ramps are hard to find…I'm not trying to be dramatic. I'm being truthful. Trying to buy ramps is like fighting off stampedes of people during Black Friday. They LITERALLY have a black market for ramps due to over-harvesting. To get more scientific for you: ramps are a North American species of wild onions that grow around the eastern part of Canada and the eastern United States. One of the reasons that they are so sought-after is that they are scarce and they grow very slowly. They take up to four years to flower and reproduce. They're in season for only a few weeks during the spring as well. That's why during these weeks you can see the restaurant menus of top establishments in New York city crowded with ramp dishes. 
Now let's talk taste.  Ramps have a unique taste that anyone who enjoys onions/garlic obsess over. When they're raw they taste like a green onion (yum.) But when cooked, they develop this garlicky, sweet, intense aroma and flavor that's just unmatchable. It's really unique and incredible. Ramps are not only rare, but expensive (unless you harvest them on your own and find them in the woods nearby.) They can sell for around $20 a pound (I know, I know) so for this recipe you can also use green onions as a replacement. If you add some garlic with that green onion, then even better as a good substitute. If you find ramps, make sure you clean them carefully as they can be full of dirt. And it's important to store them properly for example by wrapping them in damp paper towels and leaving them in an unsealed plastic bag in the fridge. Just be prepared for the garlicky smell in the fridge, that's part of the fun. 🙂
Not into this pasta? No problem.  If you have ramps, the world is your…well….ramp. Anything you can do with onions or scallions you can also do with ramps. You can make chimichurri, pesto, pickle them, sauté them or grill them. I was going to make a ramp pesto, but then I decided to just make my life easy and sauté them as part of a spring/summer pasta dish: ramps, goat cheese, sweet corn and pasta. This is my second springy pasta, the first one being my lemon butter pasta with sweet peas, mint, and whipped ricotta. The dish is very easy to make, but completely unique. I decided to use mafaldine pasta, but you can use other types if you want. Spaghetti or bucatini are excellent choices as they hold the sauce well being smaller noodles.     
What kind of corn should I use?
I'm a shortcut kind of gal. The sweet corn that I used was frozen and I just microwaved it in water for a minute to defrost it before adding it to my pasta dish (it heats up in the pan.) You can totally. use sweet corn that has been boiled, grilled, or just leftover corn from another dish.
Can I eyeball these measurements or do I have to stick with them?
Honestly, I estimated the measurements here and eyeballed everything! You can as well. The bottom line is: if you have the ingredients, there is just no way you can go wrong with this combination of flavors.
Mafaldine With Goat Cheese, Sweet Corn, and Ramps
Delicious ramp pasta playing with the unique, garlicky flavor of ramps and mixing it with tangy goat cheese and sweet corn. It's such an easy recipe, you can't go wrong with the measurements.
Ingredients
Mafaldine With Goat Cheese, Sweet Corn, and Ramps
1

lb

ramps

cleaned and trimmed

1 1/4

cups

sweet corn

fully cooked (see notes for suggestions with frozen corn) 

olive oil

2

tbsp

unsalted butter

4

oz

goat cheese

kosher salt

1/2

lb

mafaldine

or other pasta of your choice
Instructions
Bring a large stockpot of water to a boil and season generously with 3 tbsp of salt (or according to the package.) 

To prepare the ramps, set 8 (give or take) aside for topping. With these 8 ramps, cut the leaves off of the stems and set the leaves aside (we will sautée these for topping.)  Finely chop the stems. For the rest of the ramps, finely chop the stems , then coarsely chop the leaves.

Heat a large skillet over medium-high heat. Season with olive oil and melted butter. 

Once the oil is shimmering, add the chopped ramps as well as the whole ramp leaves. Season with a pinch of salt.

Sauté until fragrant, about 3-4 minutes, until the leaves are wilted and the stems are lightly golden brown and tender. Remove the whole leaves from the skillet and set them aside for topping.

Add the corn to the skillet. Season with another pinch of salt and toss for about 1 minute.

Add the pasta to the stockpot of boiling water and cook until al dente, according to package.

Lower the heat on your skillet to medium heat. Transfer the pasta to the skillet with the corn and ramps.

Break the goat cheese up into small pieces and add it to the pasta. Pour  ½ cup of pasta water into the skillet to melt the goat cheese onto the pasta to form a sauce. Toss the pasta until any extra water is cooked off. If the sauce is dry, add more olive oil or butter as needed. If you want it more "saucy" add more pasta water, about 2 tbsp at a time.

Remove the skillet from the heat and plate. Top the pasta with extra ramp leaves and any extra goat cheese. Add a swirl of olive oil and fresh cracked black pepper and serve immediately!
Notes
Microwave frozen corn in a bowl of water for 1 minute until no longer frozen. It doesn't need to be hot to be added to the pasta, just not frozen.
@diningwithskyler on Instagram