California Roll Bowl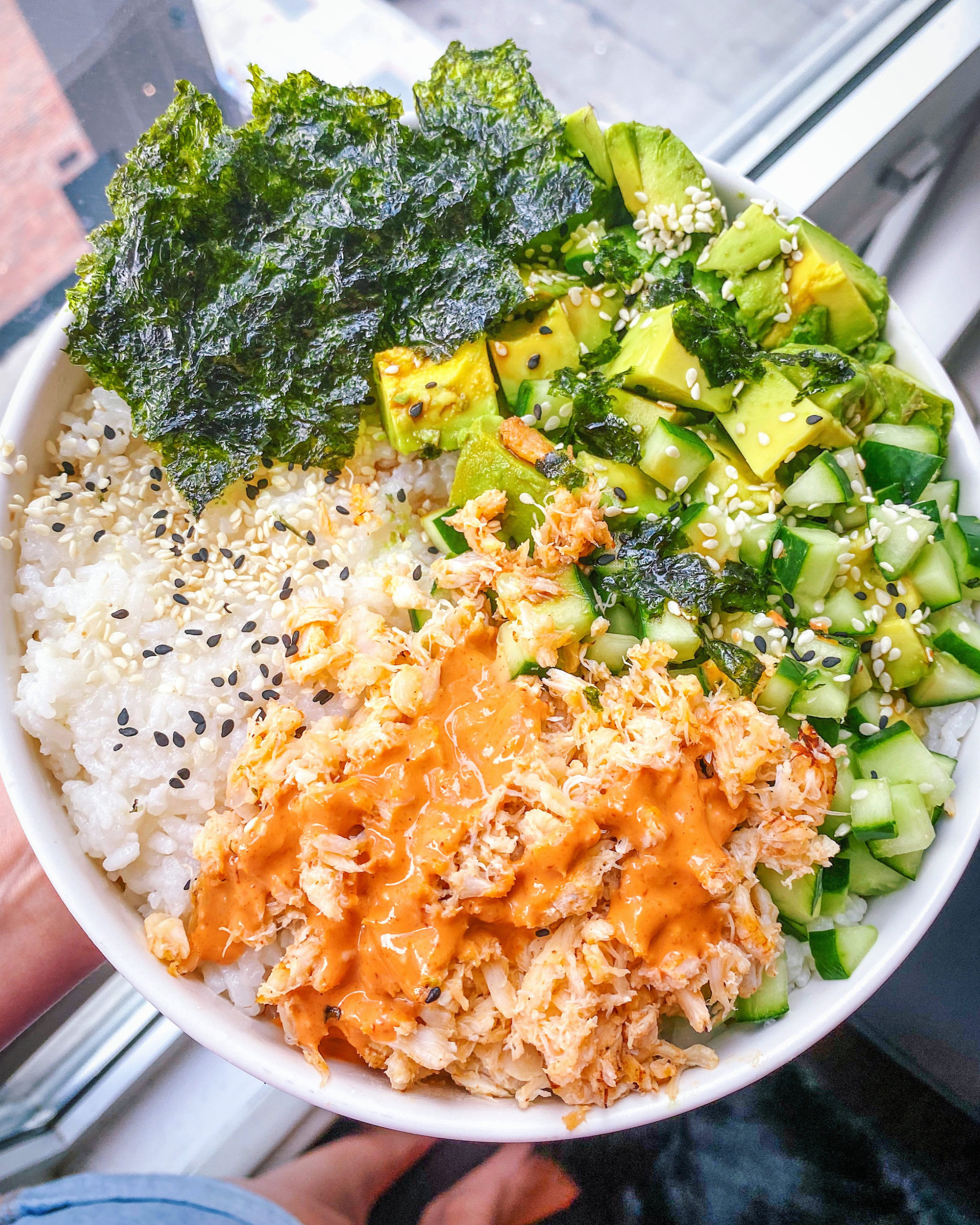 I was set on doing a video to teach you how to make sushi at home, but then something horrendous happened! I realized sushi grade salmon from my store is literally $50/lb!!! Absolutely not. Sorry, I would rather order $50 worth of takeout and have it made by a pro, and that's what I suggest you do too. Because of this, I decided to make a recipe to help us satisfy our sushi cravings without spending a ton of money or doing a ton of work. I present to you, the California Roll Bowl!!!! Wooooo!
If you were at a fancy restaurant, they would call this a *~Deconstructed California Maki Bowl* or *California Roll Inspired Poké Bowl* and that's basically what this is. It's literally all the ingredients of a California roll put onto a bed of sushi rice and topped with soy sauce and spicy mayo. Call it a poké bowl or a rice bowl, I don't care. All I care about is that you feel confident enough to make this at home and that you enjoy it.
The most annoying part of this recipe is cooking the rice because, well, rice takes time to absorb water and patience is a virtue and I don't have that. So, I do recommend cooking the rice ahead of time (maybe the night before?) or if you are on the meal prep train, make some rice a few days ahead and keep a cup or two for this bowl. I also recommend the rice is served cold or room temp for this, the same way it would be in a poké bowl or maki roll. In terms of what type of rice to use, I used sushi rice. You can use a glutinous white rice, or you can totally trash the idea of making this sushi-like and use any kind of grain: farro, quinoa, brown rice or wild rice… live your rice truth.
One more thing before we get to the party. Let's talk about protein. The crab meat I used here was the lump crab meat from Bumble Bee. I found it in the section of the grocery store where you find the canned tuna and other canned seafoods. If your store does not have it, feel free to just poach some peeled, deveined shrimp and then chop it up. If shellfish isn't your speed, go for some smoked salmon on top. Or, you can also use the OG imitation crab if you can find it! Vegetarian? Opt for some edamame.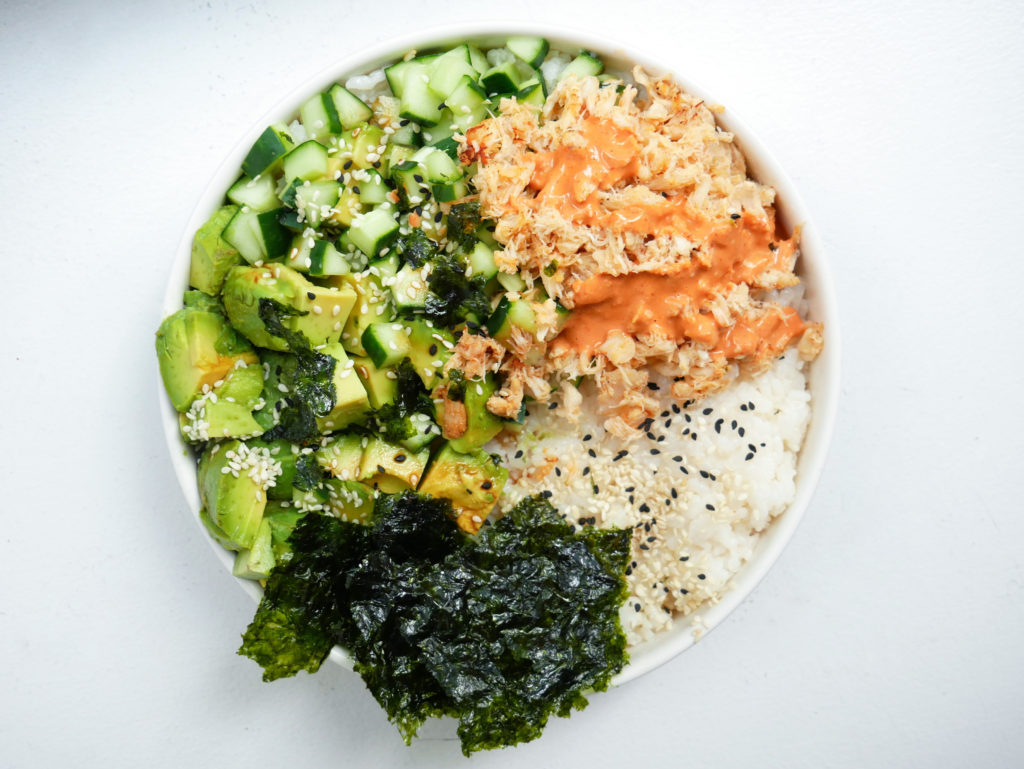 Products I used for this recipe
Adjust Servings
6

oz.

lump crab meat

Oil for pan

1

tbsp

sriracha

1

tbsp

mayonnaise

3

cups

cooked sushi rice

1/2

cup

diced cucumber

1/2

cup

diced avocado

Seaweed chips

Sesame seeds

Spicy Mayo Sauce

1 1/2

tbsp

mayonnaise

1

tbsp

sriracha

1

tsp

soy sauce
Equipment
2.
Season a skillet with oil over medium high heat. Once the oil is shimmerng, add the crab meat, along with 1 tbsp sriracha and 1 tbsp of mayonnaise. Sauté for 2-3 minutes, until all of the sriracha mayo is absorbed by the crab, and it's slightly golden brown on the outside. Remove the crab meat from the heat. NOTE: If using shrimp, boil the peeled and deveined shrmip and then chop it up. Then, toss in the sriracha mayo mixture and set aside.
3.
Add 1 1/2 cup of cooked rice to each serving bowl and spread it out with the back of your spoon.
4.
Top with the cucumber, avocado, crab meat and seaweed chips. Save a few seaweed chips to crush on top along with sesame seeds.
5.
Drizzle the spicy mayo sauce on top and serve immediately!
6.
In a bowl, add all of the ingredients and mix until combined. Use right away or cover and store in the fridge for up to two weeks.