Avocado Chimichurri with Soft Boiled Eggs + Grilled Zucchini
If you aren't familiar with chimichurri, it's a South American raw herbal "sauce" made of a few staples: parsley, minced garlic, olive oil, oregano and red wine vinegar. All of these ingredients are finely minced and combined to create a beautiful, bright sauce that adds a punch of garlicky, herbal and acidic flavor. There are a lot of renditions of chimichurri and we make it all the time in our house to top a beautiful medium rare steak, fish or even just vegetables. This time, I'm adding some avocado to give it creaminess and a little bit of a nutty flavor.
I usually don't think chimichurri needs anything extra since it's so powerful on its own, but I like this fun avocado version because it makes the chimichurri more *~dippable*~. You can use it as a dressing to dip veggies into (it tastes unreal with carrots or sweet potatoes) or just drizzle it on top of a protein as a sauce, like I did here with some soft boiled eggs. You can also make this ahead and keep it in the fridge for up to 4 days in a sealed container, but I bet you won't be able to resist snacking on it during the day and finishing it before then. When you guys ask me how I incorporate vegetables int my diet, it's honestly because I always have this on hand to dip them into and I snack on them while I cook!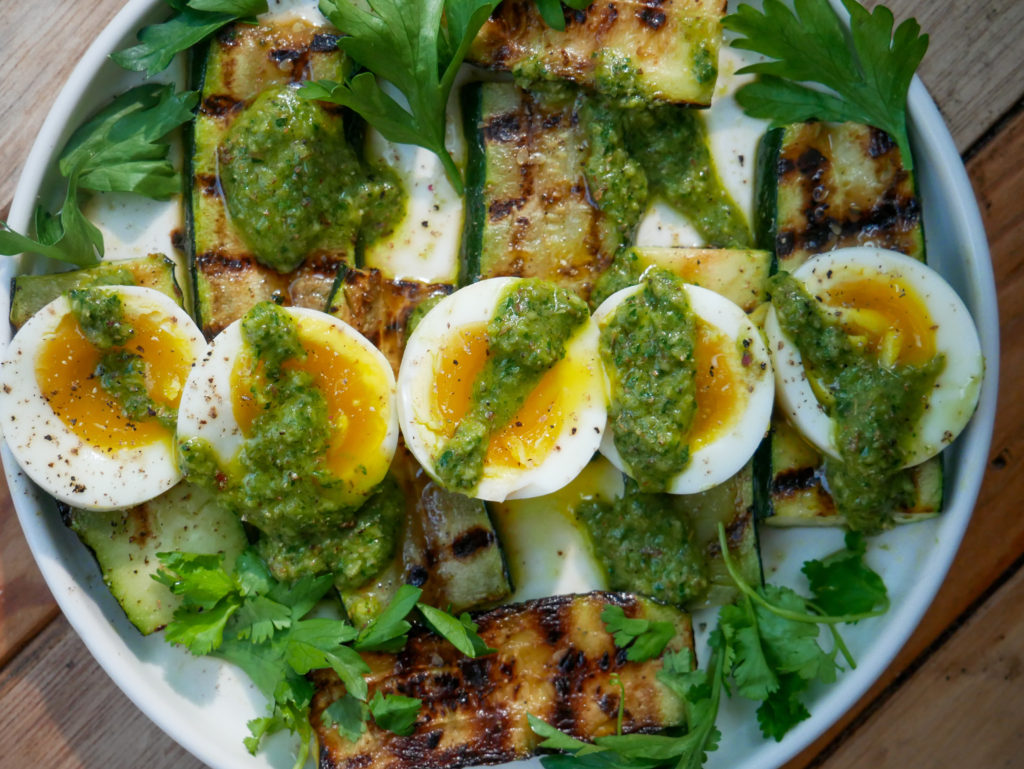 You can serve this avocado chimichurri on literally anything, but because I'm using a photo of the avo chimichurri drizzled on top of some soft boiled eggs and grilled zucchini, I'm also including the method for making that in the recipe below.
Avocado Chimichurri with Soft Boiled Eggs + Grilled Zucchini
Creamy, garlicky and herbal avocado chimichurri with soft boiled eggs and grilled zucchini. Healthy breakfast, brunch, lunch or dinner option.
Equipment
Food processor (preferred, but you can also finely chop everything by hand!)
Ingredients
Avocado Chimichurri
2

large garlic cloves

1 1/2

tbsp

shallot

you can eyeball this measurement, or coarsley chop and measure. Red onion is also doable but its more harsh.

3/4

cup

fresh parsley

leaves and stems

1/2

cup

fresh cilantro

leaves and stems

1

tbsp

oregano

fresh or dried

1 1/2

tbsp

red wine vinegar

2 1/2

tsp

lime juice

1/4

tsp

salt

start with this and adjust to taste if needed

1/4

tsp

black pepper

adjust to taste if needed

1/2

medium avocado

about 1/3 cup if using pre-cut or frozen avocado

1/2

cup

extra virgin olive oil
Soft Boiled Eggs + Grilled Zucchini
2

small/medium zucchinis (or 1 large zucchhini)

Olive oil

for seasoning

Salt

to taste

Pepper

to taste
Instructions
Avocado Chimichurri
In a food processor, add the parsley, shallot, oregano, cilantro and garlic. Pulse until finely chopped. If using a knife, mince the garlic and shallot. Then, finely chop the parsley, oregano and cilantro. Combine the herbs and aromatics in a bowl.

Add the red wine vinegar, lime juice, salt, pepper, olive oil and avocado. Blend until creamy. If you're not using a food processor, add all of the ingredients above to the herb mixture and mix.

Serve immediately or seal tightly and store for up to a week.
Soft Boiled Eggs + Grilled Zucchini
Over medium high heat, bring salted water to a boil in a large pot.

While waiting for the water to boil, cut the top and bottom off of the zucchini and discard. Cut the zucchini in half crosswise. Then, place the zucchini on a flat side so it's standing up straight. Slice lengthwise straight down, creating long zucchini strips that are about 1/2 inch think. Slice all of the zucchini and place into a mixing bowl.

Pour about 1 tbsp of olive oil onto the zucchini and add some salt and pepper to taste. Toss the zucchini slices in the olive oil, salt and pepper, until fully coated.

Heat a grill pan over high heat. (If you have a regular grill, good for you!!! Use that instead :D) Once the pan is piping hot, place the zucchini strips onto the pan, in the opposite direction of the grooves. Let the zucchini sit until char marks distinctly form on the down-facing side. Flip after about 5 minutes, or until charred to your liking. Repeat on the other side.

Once the water is boiling, add the eggs and let them boil for 7 minutes. Remove and place in a bowl of cold water (you can also do the traditional ice bath technique, but I find it to be a lot of work that isn't necessary.) You also can just run the eggs under cold water until they aren't piping hot to touch.

Remove the zucchini from the pan and plate however you see fit.

Crack the eggs by rolling them onto the countertop lightly. Peel the eggs by starting from the wider side of the egg, as it helps the eggs peel more easily.

Slice the eggs horizontally, and plate on top of the zucchini with salt and pepper. Drizzle avocado chimichurri on top and plate with fresh herbs.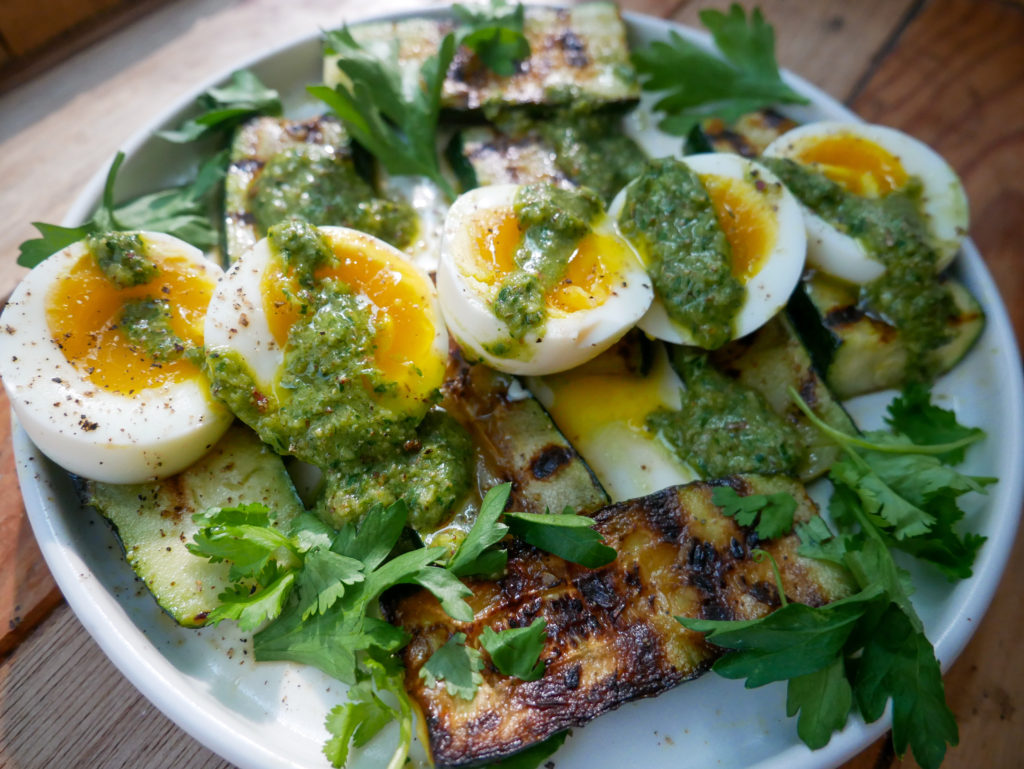 @diningwithskyler on Instagram