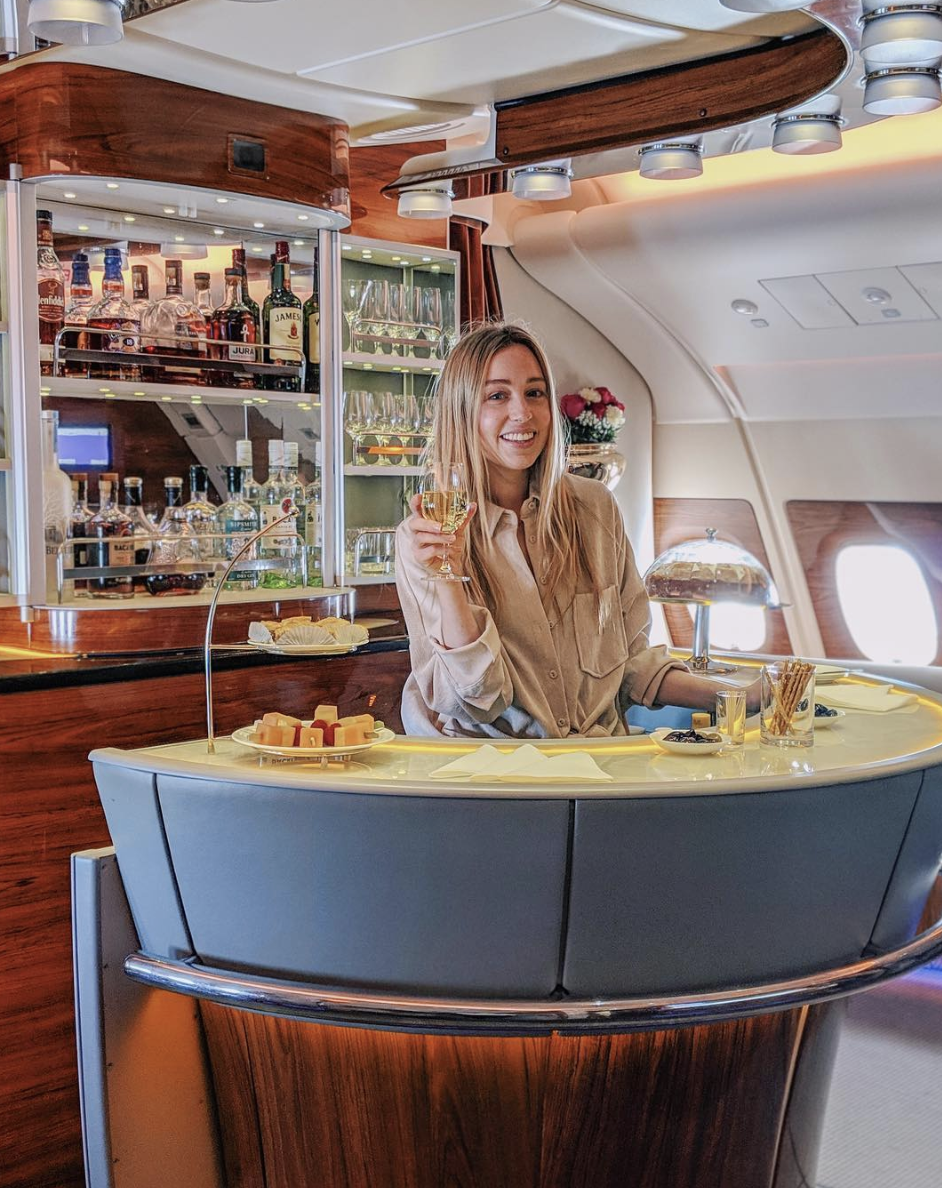 How Emirates Airline Makes Their In-Flight Food
Truth be told, I am an airline geek, and one hell of a high maintenance traveler. I'm pretty chill on the ground, but I love to live in luxury in the sky. After flying business class to Barcelona a few years ago, my world was changed….How could I ever go back to economy again? I must lay down for flights over seven hours. I thought I knew it all. And then I flew Emirates business class on the way to Cape Town for a family vacation. That's when I began to love flying.
My first time on the A380 Airbus in 2017.
We could have taken South African Air non-stop to Cape Town, but my family wanted to have the best trip of a lifetime. So, we decided to take a longer route on Emirates. We first flew to Dubai, rested in the business class lounge, and headed to Cape Town from there. This took about 18 hours, but it was anything but stressful. This is when I realized that flying doesn't have to be a means of travel, but it can be part of the overall trip experience. You can, in fact, be served delicious food and great wine by a five-star waitstaff, all while wearing your sweatpants and watching back to back movies. Those are essentially all of my favorite activities, so why not do it while heading off to a new country?
I've always been fascinated with in-flight dining. Before I became an airline nerd, I always planned my trips around the food I was going to eat in the final destination. Now, I plan my trips around dining in the airport, in the airplane, in my final destination, then on the way home. This brings me to my most recent press trip with Emirates. Not only did I get to go to Dubai with my favorite airline, but I got to taste their food in the first and business class lounges, in their A380 AirBus business class, and I got to get a behind the scenes look at how their food is made and transported at their catering facility. It's no secret that there's a lot that goes on behind the scenes at an airline. But seeing how the operation works first hand was eye-opening and actually gave me so much peace of mind about what I'm putting into my body while I'm in the air. I can't speak for other airlines, but I know that Emirates is only working with natural ingredients that are sourced from all over the world.
Dishes are made by hand in an industrial kitchen.
Just like any other food company, all of the food you receive on an Emirates flight is made fresh in an industrial kitchen. Obviously, this is a very, very big industrial kitchen, but it serves the same purpose as the industrial kitchen your favorite food startup would use. It's extremely sanitary, with all the workers sporting hair nets, gloves and special sanitation shoes. There are also several cooks who work at each station. The majority of food is made by hand (which is mind blowing to me) with the help of a few larger machines to assist in things like cutting pastries, or transporting trays from one end of the facility to another.
All food made in the Emirates catering facility is transported to the Dubai airport lounge and outbound Dubai flights.
If you are boarding an Emirates flight somewhere else, they have a local catering facility preparing the same menus that have been designed in Dubai at the catering facility.
Each flight has a menu that is inspired by it's destination city.
On my way to Dubai this time, the menu was eclectic and western. Back in 2017, it was inspired by Middle Eastern ingredients.
Cold storage is crucial in keeping food fresh.
The Emirates catering facility has tons of "chillers" which are basically giant walk-in freezers. There are chillers designated for every type of food from produce to meat to fish.
Meat and fish are imported for maximum quality.
Dubai is in the middle of the desert, so Emirates has to be resourceful to make sure they have the best ingredients. They import ingredients from all over the world to elevate their dining program.
Food is made to be eaten within the first 24 hours. Shelf life is 48 hours.