Sour Cream and Onion Seasoning (+ It's Vegan!)
I put the word "vegan" at the end of this title because I don't want you to associate this seasoning with the *idea* that vegan foods don't taste good. I'm here to break the news that vegan foods can still taste delicious!!! (Especially their desserts…mmmm.) And of course, this sour cream and onion seasoning really doesn't taste vegan.
So what is a sour cream and onion seasoning? Well, you know those chips that are covered in delicious sour cream and onion flavor dust? This is essentially a vegan version of that. Instead of using buttermilk or cheddar powder as a base, we are going with some good old nutritional yeast, which actually has a natural cheesy, nutty taste. I put a quick demo on how to make this seasoning on IGTV (linked below for your viewing pleasure!) but I wanted to post the full recipe so you can make this seasoning and store it in your pantry to have on hand.
And by the way: this isn't just for french fries or homemade potatoes. You can also toss vegetables in it (cue my sour cream and onion chickpeas, which you can find here.) I also love it on mushrooms, popcorn, broccoli and green beans. Add it into the pan at the tail end of sautéing your veggies, so that it slightly crisps and sticks to the oil on the vegetables. Delicious! And, if you're not actually vegan, feel free to always add a dollop of sour cream to whatever you're serving this on. Plus fresh herbs. Always add fresh herbs.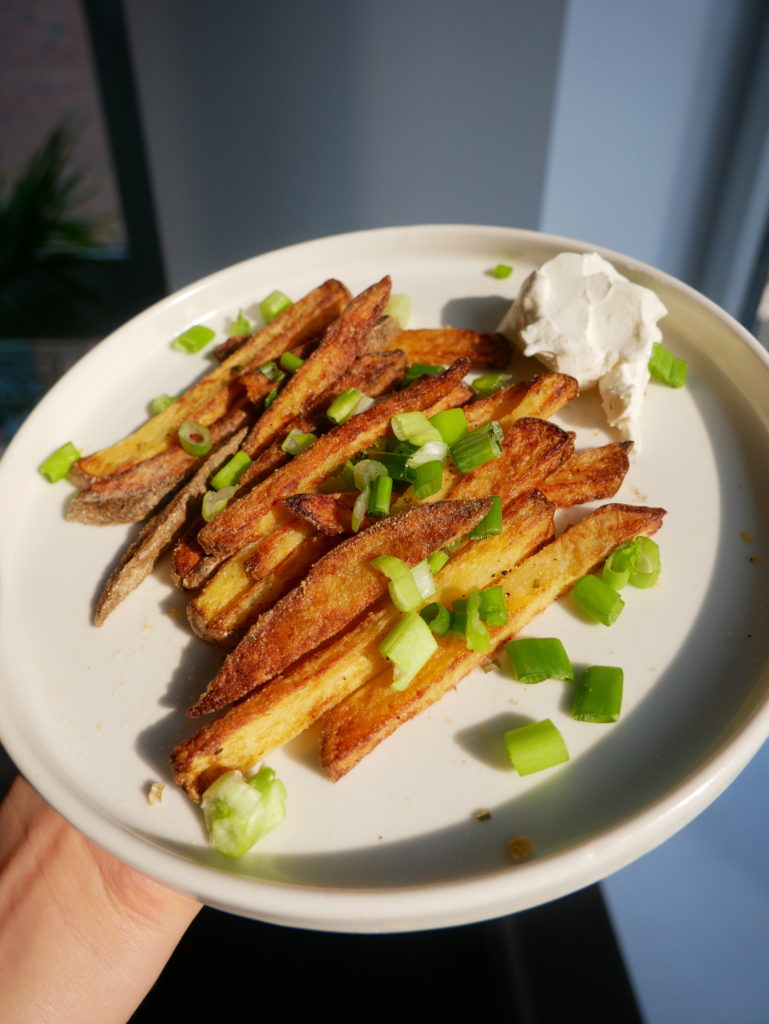 Vegan Sour Cream and Onion Seasoning Powder
Sour cream and onion vibes without the sour cream? Sign me up! Throw this on potatoes, veggies, chickpeas, a hard boiled egg…or just anything that needs an extra kick of flavor.
Ingredients
2

tsp

nutritional yeast

1

tbsp

onion powder

2

tsp

garlic powder

1/3

tsp

salt

or to taste

2

tsp

dried chives

optional, can serve with fresh chives or scallions

1

tsp

minced dried onion

optional, I just had it in my pantry!
Instructions
Combine all ingredients in a bowl. Taste to make sure the levels of salt are to your liking. Feel free to add pepper or anything else to make it perfect for you! Store in a closed jar at room temp, or refrigerate in a tightly wrapped bowl. Lasts up to 2 years if stored properly!
@diningwithskyler on Instagram