Sweet Potato Oat Cinnamon Rolls
I don't care what season it is. I will always eat cinnamon rolls. Rain or shine, sun or snow, nothing will stop me. But sometimes those store bought cinnamon rolls are just too indulgent for me….not to mention I can't just eat one. I mean, let's be real, I can never just eat one, but at least with this recipe, I know what's going into my cinnamon rolls.
This recipe was my own Skyler Swap version of store bought cinnamon rolls, swapping out some artificial ingredients for wholesome natural options. No matter how you slice it, cinnamon rolls won't be healthy. Let's just take a moment to realize that. For example, I know these are more natural than my Pillsbury alternative, but they are also packed with butter and sugar for optimal deliciousness. What they aren't packed with is gluten and yeast. These are completely yeast and gluten-free! So if you have any allergies, these are a great option to enjoy that don't make you feel like you are missing out.
The reason I chose to make these with sweet potato is because of the natural starchiness and sweetness of the sweet potato. I find that the starchiness brings that doughy texture that we know and love, without having to resort to yeast. Of course, these aren't bouncy pillows like yeast-filled cinnamon rolls. Instead, they are a little more bread like, with a more dense texture. I also love the sweet potato because it always goes nicely with cinnamon. And finally, um, hello …. it's now fall, so cinnamon and sweet potatoes and comfort foods are always acceptable until springtime! Woohoo!
Sweet Potato Cinnamon Rolls
I didn't think I could enjoy a gluten-free cinnamon roll, but here I am with a skillet full of gooey, delicious sweet potato oat-based cinnamon rolls. The mashed sweet potatoes give a nice starchiness to make up for lack of gluten and yeast, and the oat flour holds everything together perfectly. What's even more fun is that you can top with my healthier Greek yogurt icing, or you can top with whatever you want! Pumpkin purée….Nutella… Chocolate ganache… store bought frosting…. and MORE.
Ingredients
Cinnamon Rolls
1

sweet potato

medium to large size

2

cups

whole grain oat flour

I used Bob's Red Mill

2

tsp

baking powder

1/2

tsp

Kosher salt

1

tbsp

cinnamon

or to taste*

2

tsp

vanilla extract

1

tbsp

raw honey

can sub for agave nectar or maple syrup

1

large egg

1/4

cup

oat milk

can sub for almond milk, regular milk, cashew milk, etc. I have only tested this recipe with oat and almond milk

2

tbsp

melted ghee

can sub with butter or an oil of your choice

1/4

cup

oat flour

for rolling dough
Filling
2/3

cup

raw turbinado sugar

can sub for brown sugar or refined sugar

1/4

cup

melted ghee

unsalted *can be subbed for butter or any oil of your choice

3

tsp

cinnamon

1/4

tsp

salt

*taste before adding salt if you used salted ghee or butter
Greek Yogurt Frosting (optional)
1/2

cup

Greek yogurt

1

tbsp

raw honey

*can sub for maple syrup or agave nectar

2

tbsp

oat milk

*can sub for almond milk, regular milk, cream, cashew milk, etc.

1/4

tsp

vanilla extract
Instructions
Preheat oven to 400 degrees. 

Poke holes into your sweet potato and microwave on high until soft and tender (about 5-7 minutes). 

Scoop the "meat" out of the sweet potato and mash thoroughly. Make sure the sweet potato is soft enough to mash without any lumps. Either fold the sweet potato mash repeatedly, until the temperature drops. Or, place the sweet potato mash into the fridge or freezer until it reaches room temperature.

In a large bowl, combine the oat flour, baking powder, salt and cinnamon. Whisk until all the ingredients are thoroughly combined.

Retrieve the sweet potato mash out of the fridge. Combine vanilla, egg, raw honey, oat milk and melted Ghee into the sweet potato mash. Fold until combined.

Add the dry ingredients, 1/3 at a time, and fold into the wet ingredients to build the dough. Once the first 1/3 of the dough is folded, fold the second portion, then the final portion. It should feel like dough, maybe a little stickier than your average dough. Roll into a ball and place into the fridge while you make the filling.

In a bowl, combine the ingredients for the filling.

Remove the dough from the fridge. Flour a surface (cutting board or the counter) and begin to roll out vertically, until a long strip of flat dough is formed. If there is too much dough for the surface, remove extra dough and you can repeat these steps with the remaining dough to finish the batch.

Spread a generous amount of filling onto the dough, leaving about an inch between the filling and edge of the dough.

Roll the dough into a log, capturing the filling in between each time you roll it. Spirals of the filling between the layers of dough should begin to form.

Place the rolls into a greased oven safe pan or skillet. They should be snug and touching each other, so they can expand together. If the pan is too big, stick all of the rolls onto the pan, and encase them in tin foil to maintain the shape.

Bake the rolls for 35 minutes, until the top is golden brown and the middle is soft. If you want them crispier on top, bake another 5 minutes.

While the rolls are baking, combine the ingredients for your frosting. If you don't want frosting, melt together some more cinnamom glaze with maple syrup, cinnamon, and melted. ghee. Add some turbinado sugar for an extra crunch.

Pour the frosting or cinnamon glaze over the rolls and enjoy!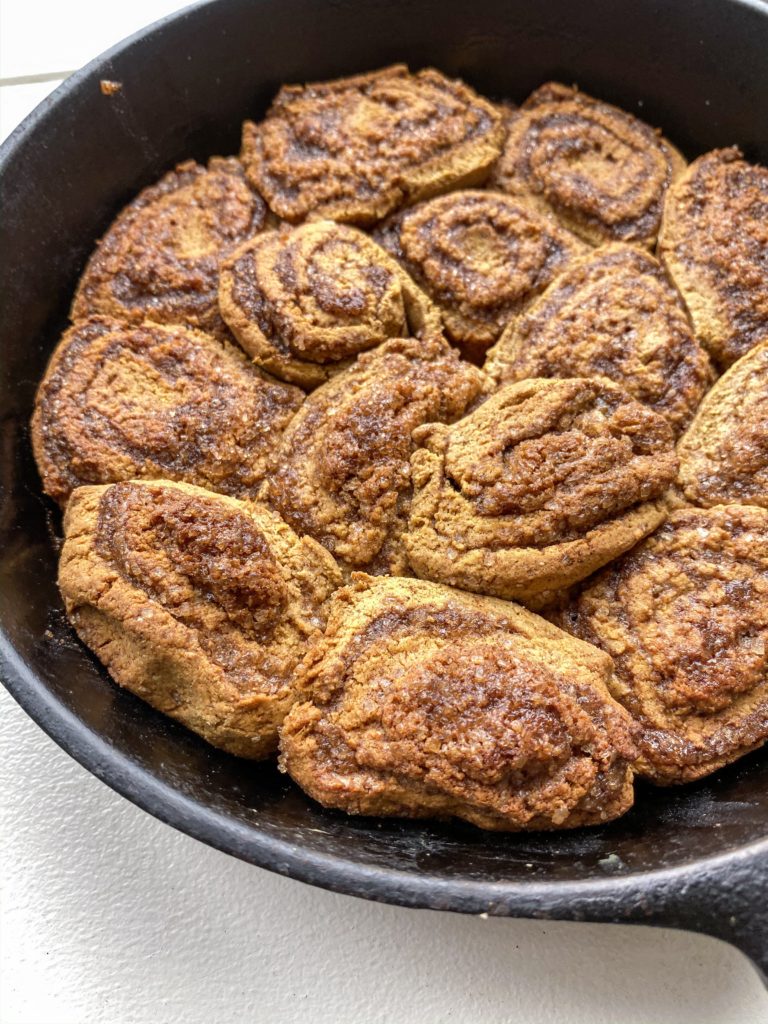 @diningwithskyler on Instagram