Gluten-Free Cauliflower Latkes
I've alllllways loved latkes. Potato latkes are a *showstopper* and if you haven't tried them yet, I highly recommend you do!! If you aren't familiar with latkes, they are Jewish fried potato pancakes that are served with a variety of toppings. Honestly, latkes are genius. That's why they're loved all over the world!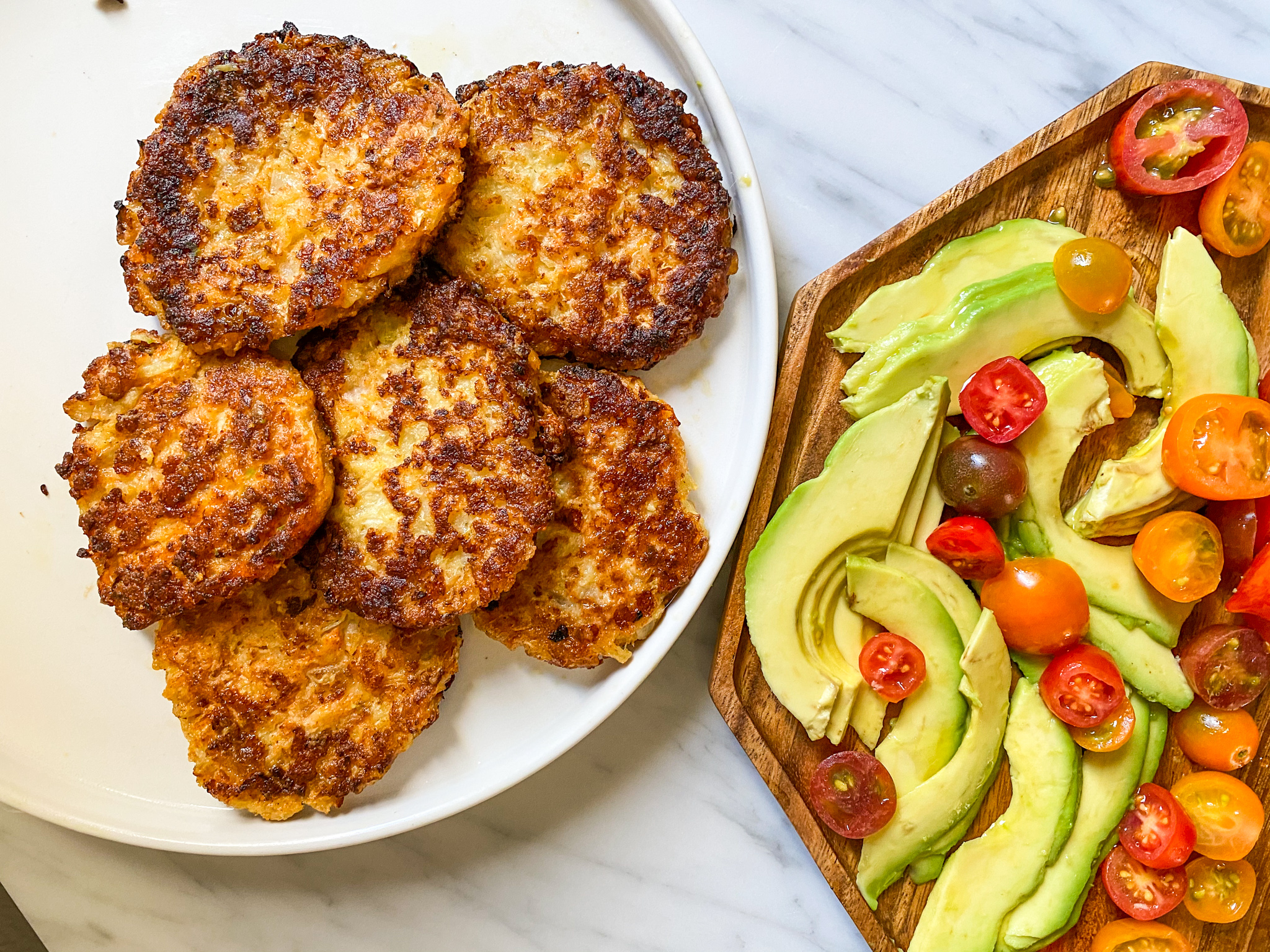 Needless to say, I am one of those people who loves a classic latke. A few weeks ago I was hanging out at home and craving them for brunch. Sadly, I only had a head of cauliflower in the fridge and no potatoes!! Aaaand that's how this recipe came to be. If I must say so myself, these cauliflower latkes are extremely delicious and crispy. Of course cauliflower is a lighter, healthier alternative to the potato and has a less starchy texture and consistency, which affects the final result. These aren't going to be as crispy on the outside and fluffy in the center as traditional latkes. However, they are still delicious and I personally love them! I like to top these with avocado, tomato, lime juice and salt. But you can totally eat them plain or with whatever you want on top!
What are some good toppings for these?
Top with scrambled eggs, lox, cheese, sour cream, chives, scallions, sriracha, ketchup….honestly anything you enjoy with hash browns or latkes would go with these!
 Can I use frozen cauliflower? 
I do suggest you go with fresh here just because it's much more crunchy and less soggy than frozen. Frozen cauliflower always ends up being fulllll of water and that will impact your latkes.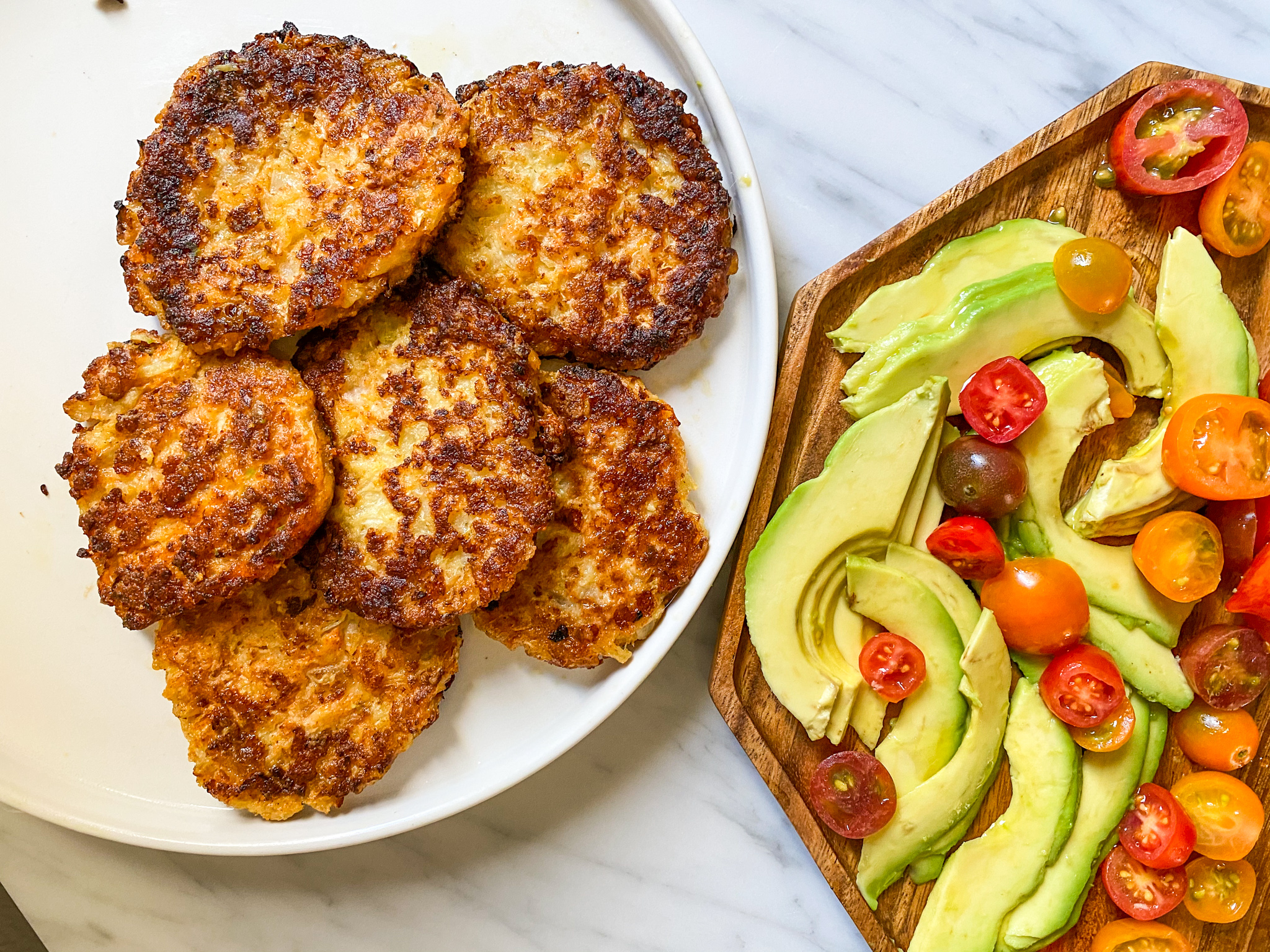 Adjust Servings
1

head

of cauliflower, coarsley grated

1

medium

white onion, finely chopped

1

cup

mozzarella

2/3

cup

all purpose gluten-free flour (see notes for Passover adaptations)

1

tsp

smoked paprika

1/2

tsp

kosher salt

2

large

eggs

Olive oil, for pan
Equipment
1.
Place the grated cauliflower into a cheesecloth or large paper towel. Squeeze out excess moisture. In a large mixing bowl, combine the cauliflower, white onion, mozzarella cheese, salt, and paprika. Mix together and taste to make sure the salt levels are good for you! If not, add a little more salt to your liking.
2.
Add the egg and mix together until combined. The texture should be sticky and malleable.
3.
With an ice cream scooper (or a large spoon, or your hands) scoop the dough and form equal sized balls. Flatten each one with the palm of your hand or a spatula until about 1/3-1/2inch thick.
4.
Heat a skillet with olive oil on high heat. Once the oil is shimmering, place the latkes into the skillet, around the edges of the pan. Fry on each side for 5 minutes, until golden brown and crispy to your liking. Repeat with all of the latkes. Serve immediately or freeze. See instructions for reheating frozen latkes in the notes!
Passover flour substitutes:
The best substitute would be 1/2 cup matzo meal and 1-2 tbsp of potato starch. Start with 1/2 cup matzo meal and 1 tbsp of potato starch and if the latkes are not holding their shape, add a second tablespoon and mix until combined. The texture should be sticky and malleable at this point. If it's not (since every cauliflower head is a different size) then add a little more matzo meal until the consistency is like a sticky dough.
Instructions for reheating: If you want to reheat the latkes, remove them from the fridge and line them on a sheet pan. Preheat the oven to 450 degrees and bake for 10-15 minutes until sizzling, hot and fully cooked throughout.