Almond Crusted Salmon with Cranberries + Veggies
You know what protein I genuinely don't want to live without? Salmon. It's a nutritional powerhouse for a gal like me…what I'm talking about is that it's loaded with those OMEGA-'s! Omega-3's are healthy fatty acids. I got turned onto omega-3's a while ago, when I heard they are great for your skin. But, there are many other benefits, which I will put right here for anyone who's interested.
Ok enough about #health. Let's talk about this dish. I love finding new ways to season and prepare salmon, like my air-fried salmon tacos crusted in ground tortilla chips *swoon.* But this recipe is for those people who only want to enjoy fall flavors, the minute the weather hits 60 degrees.
First, I crusted my salmon with some toasted almonds, minced garlic and herbs. This will bring a nice hearty and crispy flavor to the fish. Next, I pair it with some earthy veggies (either asparagus or green beans — I've done both!) that have been simply seasoned with olive oil, garlic, salt and pepper. Finally, I top it all off with some tangy, tart roasted cranberries. Put it all together and you have a diverse spectrum of flavors and textures. Y U M.
This dish is:
Crunchy
Hearty
Tart
Savory
Salty
Aromatic
Earthy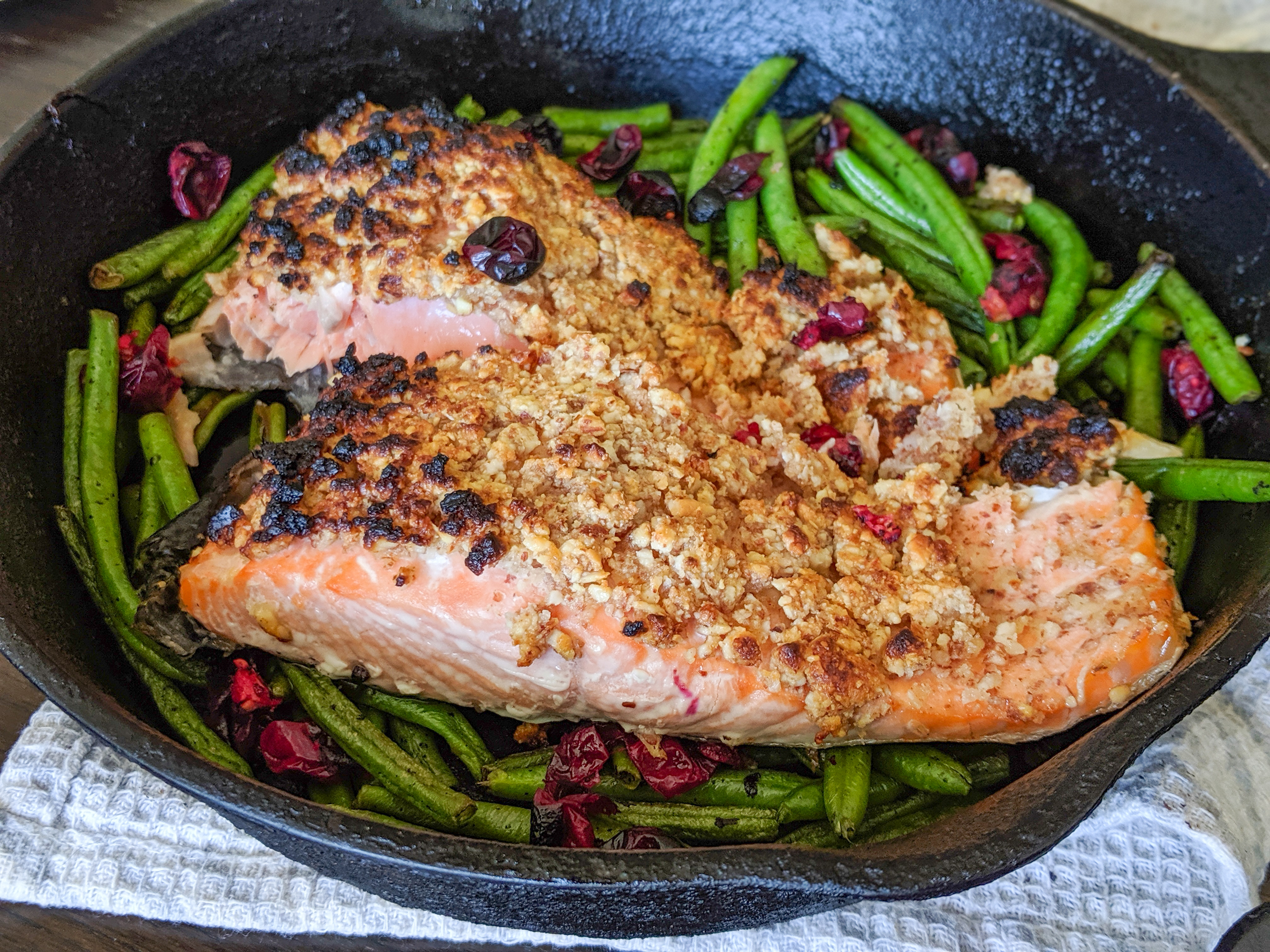 Almond Crusted Salmon with Cranberries + Asparagus
Seafood can be fall-y too! I'm taking my favorite seafood and giving it a seasonal spin. First, I'm crusting it with some ground toasted almonds, garlic, and spices. This builds a nice crispy layer on the outside, which will become golden brown in the oven! Speaking of the oven, I'm roasting my salmon with some asparagus and fresh, tart cranberries. If asparagus isn't your jam, I've also made this with green beans and it's just as flavorful! The salmon is savory and crispy, while the veggies bring earthiness, and the tart cranberries give a nice zing! It can be served in a skillet, or plated separately. Enjoy!
Equipment
Baking Sheet

Aluminum foil
Ingredients
Salmon
1.25

lb

salmon filet

with or without skin on

1/2

cup

almonds

roasted preferred, not necessary

4

cloves

garlic

1

tbsp

olive oil

1

tsp

sage

1/2

tsp

salt

1/2

tsp

pepper
Vegetables
2 1/2

cups

green beans

can sub asparagus

1

cup

raw cranberries

can sub cranberry sauce if you don't want a tart flavor

2

cloves

garlic

minced

2

tbsp

olive oil

for seasoning
Instructions
Preheat the oven to 350 degrees.

In a food processor, grind the almonds, garlic and olive oil until finely chopped. Add the sage, salt and pepper, and pulse until thoroughly combined. Remove from the food processor and place into a bowl.

Dry off the salmon filets. Pat the mixture on top of the salmon, to fully coat the top. If the mixture seems to dry, add more olive oil (1 tsp at a time) and mix until the desired consistency is reached. Make sure you don't add too much oil, or else the almonds will be soggy, not crispy.

Place aluminum foil in the middle of a baking sheet and set the salmon filets on top of the foil, skin side down. Curl the edges of the foil upwards to catch any of the juices while baking. Set the pan aside.

In a large bowl, season the veggies and cranberries in olive oil, garlic, salt and pepper.

Place the veggies on the baking sheet around the salmon. Make sure they are not touching each other, and they have adequate space in between. This ensures even roasting.

Then, switch the oven to broil. Broil on high for 5 minutes, with the salmon closest to the flame. Check in on it halfway through to make sure it's not burning the edges! If one side is getting more heat than the other, switch the sides to ensure even cooking.

When the salmon is done, let it rest. Heat a skillet with olive oil or butter, and toss the veggies and cranberries one more time to add some extra caramelization and flavor. If you have any leftover almond mixture, throw that into the pan as well and sauté for 2-3 minutes.

Add the salmon on top of the sautéed veggies and serve in a skillet! Or, just plate the veggies and salmon on top.
@diningwithskyler on Instagram