Skinny Matcha Molten Lava Cake
If you haven't seen or tried yet, Spot Dessert Bar (located in Manhattan and Queens) makes this crazy, gooey molten lava cake with a river of matcha flowing through it when you slice it open. So today, I made a Skyler Swap version that's truly all natural. Get ready for it…. I made an avocado, black bean, and banana brownie with a dark chocolate drizzle and matcha powder coating. Yes. Black. Beans. I will take my fiber like this ANY DAY.
I want to note that this will bake until crispy, but the middle may stay softer. I wanted this with this recipe because I wanted to mimick that gooey result I saw at Spot Dessert Bar. If you want it firmer, cook longer!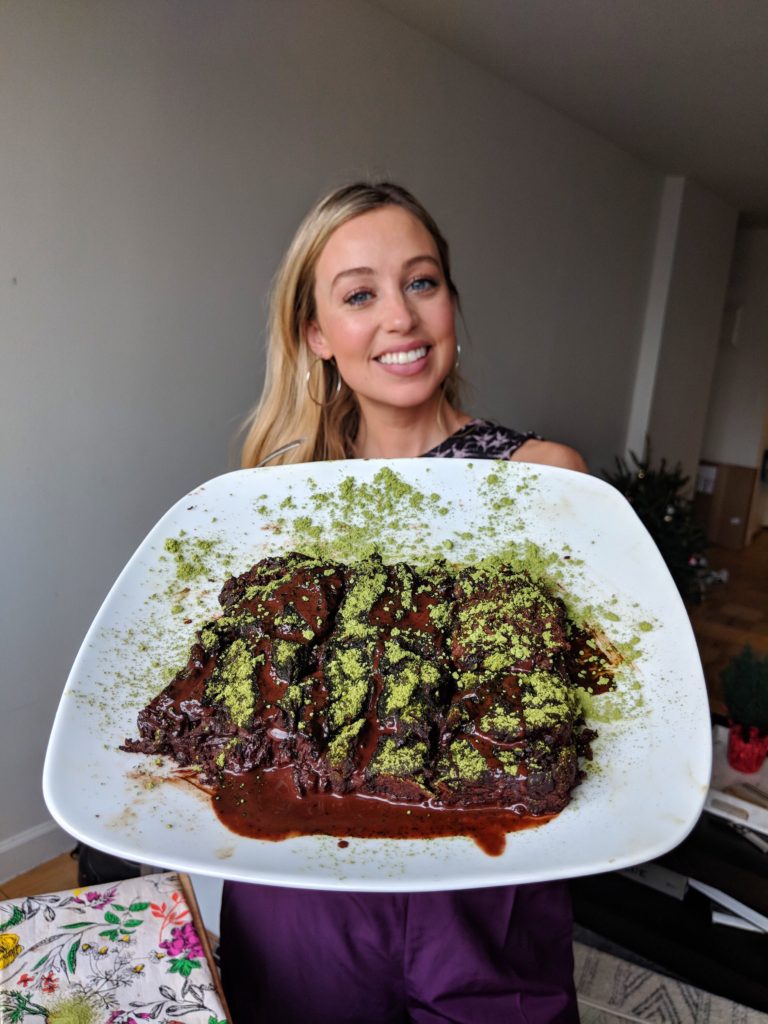 Adjust Servings
Brownies

1

cup

black beans

1

ripe avocado

1

banana

1

cup

cocoa powder

1

egg

1

tsp

baking powder

1

tbsp

vanilla extract

2

tbsp

raw unfiltered honey

1/4

cup

dark chocolate

Topping

1/4

cup

dark chocolate

1

tbsp

matcha powder
Equipment
1.
Preheat the oven to 350 degrees.
2.
In a food processor, combine the beans, avocado, banana, cocoa powder, egg, baking powder, vanilla extract and honey.
3.
After well blended, put the contents in a mixing bowl and fold in your chopped dark chocolate chunks.
4.
Pour the mixture into a greased 8x8 brownie pan and bake for 20 minutes, until browned or crisp. The middle may be gooey-er. If you want it more firm, bake for 30 minutes. After you remove from the oven, let the brownies cool completely so they are able to set up.
5.
Top with the melted dark chocolate drizzle and matcha powder.