Matcha Blueberry Cupcakes
The other day I got my hands on some grade-A matcha and decided to not only drink it, but eat it! Of course, I wanted to disguise the healthy green tea powder as something completely unhealthy….and that's where these INSANELY delicious matcha blueberry cupcakes stuffed with a blueberry compote and topped with a blueberry cream cheese frosting were born.
LET me tell you….this is my favorite dessert I've ever made. Maybe it's because cooking with such cool colors and ingredients made me feel like a true gourmet chef, or because they just taste so damn good. Not sure. But honestly, these are super easy to make, extremely delicious and most importantly, if you walk into a party with a plate of these bad boys you look like a BOSS. Maybe I'll bring them on my date tonight as an experiment and let you know how it goes.
Warning: cooking with matcha and blueberry will make it look like Shrek and a smurf made passionate love in your kitchen. 
Matcha Blueberry Cupcakes
Earthy, yet sweet, matcha cake hugging a blueberry compote and topped with a tangy and sweet blueberry cream cheese frosting. The only way you won't like these is if you're allergic to good times.
Ingredients
Blueberry Compote
3

cups

frozen blueberries

1/4

cup

white granulated sugar

3

tsp

lemon juice
Matcha Cupcakes
1 1/2

cups

all-purpose flour

2 1/2

tsp

matcha powder

1/2

tsp

baking soda

1/2

tsp

salt

2/3

cup

sugar

2/3

cup

vegetable oil

2

eggs

1/2

cup

sour cream
Blueberry Cream Cheese Frosting
8

oz.

cream cheese

1/2

cup

butter

softened

1

cup

confectioners' sugar

1/4

cup

blueberry compote

1

tbsp

flour
Instructions
Blueberry Compote
1. Preheat the oven to 325 degrees. (For the cupcakes)

Pour half of the blueberries (1 ½ cup) , sugar, lemon juice and water into a sauce pan. Cook over medium-high heat until the mixture reaches a boil, then turn the heat down to a simmer.

Cook the mixture on the low heat for an additional 10 minutes, stirring occasionally. Add the rest of the blueberries and cook for another 5-6 minutes.

Let the blueberry compote sit for a few minutes and pour it into a separate bowl. Lightly mash the warm blueberries with a fork and then refrigerate the mixture while you make the cupcakes.
Cupcakes
Once you are finished the blueberry compote, pour it into a separate bowl and refrigerate it to cool.

In a large bowl, combine the flour, matcha powder, baking soda, salt and sugar. Mix until all the dry ingredients are thoroughly blended.

Mix in the vegetable oil and eggs until thoroughly blended. Then, mix in the sour cream.

Line a cupcake pan with cupcake liners and fill each one halfway (about a tablespoon of batter). Bake for 13-15 minutes until thoroughly cooked throughout.

Prepare the frosting while the cupcakes bake.

Set the cupcakes aside to cool for about 10 minutes. Once the cupcakes are cool, cut out the middle of each.

Before filling the cupcakes with blueberry compote, get rid of excess water by pouring the compote through a strainer or simply dumping out some of the extra liquid.

Fill each cupcake with blueberry compote.

For the blueberry cream cheese frosting, cream together the cream cheese, butter and confectioner's sugar on low speed.

Add the blueberry compote and mix until the frosted is well blended. Add the flour and continue mixing until the frosting reaches a smooth consistency.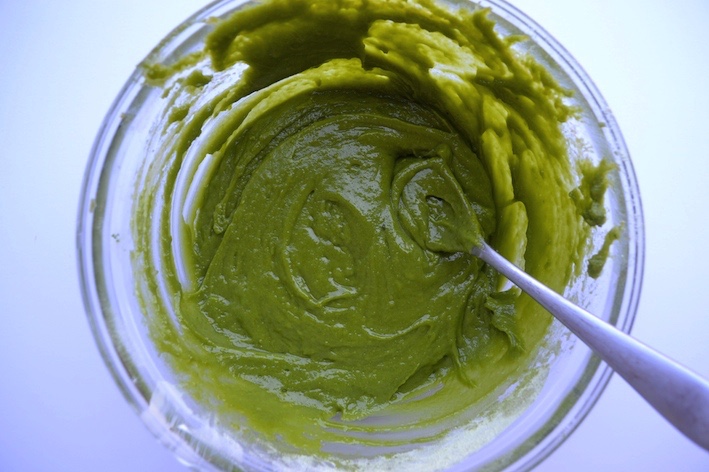 @diningwithskyler on Instagram